Electric Vehicles
Together we can achieve Net-Zero emissions.
Electric vehicles and charging stations will play an increasingly important role in your community's electricity grid. SYNERGY NORTH is committed to evolving with the demands of new emerging technologies to better serve its customers and the community.
To meet those expectations SYNERGY NORTH is asking EV owners to register their EV's to begin the process together.
SYNERGY NORTH's Electric Vehicle Resources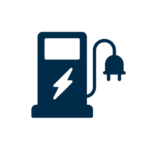 Keeping you in the know with the latest news and advancements in the EV world.